Manufacturers of Bull Plug, Bull Plug for Oil and Gas Industries, Bull Plug Dimensions, API 6A Bull Plug Pipe Fitting, BS3799 Hex Bull Plug, ANSI B16.11 NPT Threaded Bull Plug, High Pressure Screwed Bull Plugs.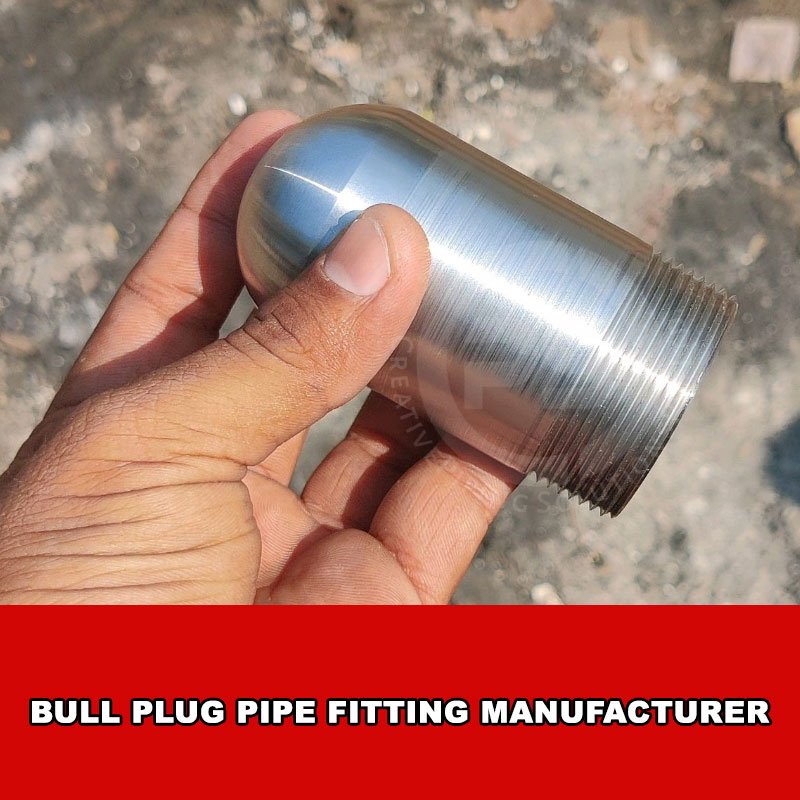 Bull Plug Fitting:
Bull Plug Pipe Fittings are used in the conduits or wellbore tubular, piping system. It is a threaded nipple with a rounded, closed-end, which is used to close off the end of a line or stop up a hole or a solid plug used as an isolation device in the piping system. During maintenance operation, Bull Plugs prove a means of draining a line.
Threaded Bull Plug are manufactured from A105 bar stock in accordance with MSS SP-95. Nominal Pipe Sizes range from 1/8″ through 4″. Hex Bull Plug available in standards Schedule 40, Double extra heavy or solid, extra heavy Schedule 160, Schedule 80. High-Pressure Bull Plugs are produced with end finishes, square-cut (for socket weld), grooved, threaded (as per ASME B1.20.1), or beveled (as per ASME B16.25). all dimensions are in inches and weights based on the material used to produce bull plugs such as carbon steel, stainless steel, high nickel alloys, etc.
Bull Plug Specifications:
Dimension: ASME 16.11, MSS SP-79, MSS SP-95, 83, 95, 97, BS 3799
Standard: ASME SA182, ASTM A182, B564, B462, A105, A350.
Size: 1/4″ NB TO 4″ NB
Class/Pressure: 2000 LBS, 3000 LBS, 6000 LBS, 9000 LBS ( 1000 PSI – 15000 Psi )
Type: Screwed-Threaded NPT, BSP, BSPT Fittings
Form: Bull Plug, Hex Head Plug, Square Head Plug, Round Head Plug
Finishing: Carbon Steel-Galvanized or Black, Stainless Steel-Pickled, Low Alloy Steel-Black
Bull Plug Pipe Fitting Material Grades:
| Steel | Grades |
| --- | --- |
| Stainless Steel | ASTM A182, F304, 304L, 304H, 309S, 309H, 310S, 310H, 316, 316TI, 316H, 316LN, 317, 317L, 321, 321H, 347, 347H, 904L. |
| Duplex | ASTM A182 – F51, F53, F55 S31803, S32205, S32550, S32750, S32760, S32950. |
| Carbon Steel | A105, LF2, IS 2062, F42, F46, F52, F60, F65, F70. |
| High Nickel Alloy | 200, 201, 400, K500, 600, 601, 625, 718, 800, 825, C22, C276, B2, X. |
| Alloy Steel | F1, F5, F9, F11, F12, F22, F91. |
Bull Plug Fitting Gallery:
Hex Bull Plug Applications:
Oil & Gas
Pulp & Paper
Petrochemical
Chemical Processing Industries
Food & Beverage
Pharmaceutical
Waste Incineration
Shipbuilding / Marine
Architectural
Machine Building
Semiconductor
MSS SP-95 Bull Plug Pipe Fitting Dimensions:
A plug to close off the line: Bull plug is a short part with one threaded end and one rounded closed end that is used to plug off the bottom end of down-hole logging instruments from borehole fluids.

Nom Pipe Size
D
B
BI
T
(Mm)
H
Sch 40/STD
Sch 80/XS
(3M)
Sch160
(6m)
XXS
1/8
1/4
10.3
51
9.5
1.73
2.41
–
–
14
13.7
51
11.0
2.24
3.02
–
–
14
3/8
17.1
57
12.5
2.31
3.20
–
–
14
1/2 3/4
21.3
64
14.5
2.77
3.73
4.78
7.47
 14
3/4
26.7
70
16.0
2.87
3.91
5.56
7.82
18
1
23.4
76
19.0
3.38
4.55
8.35
9.09
18
1-1/4
42.2
83
20.5
3.56
4.85
6.35
9.70
18
1-1/2
48.3
89
20.5
3.68
5.08
 7.14
10.15
18
2
60.3
102
22.0
3.91
5.54
8.74
11.07
20
2-2/2
73.0 127
27.0
5.16
7.01
9.53
14.02
20
3
88.9
152
28.5
5.49
7.62
11.13
15.24
20
4
114.3
178
32.0
6.02
8.56
13.49
17.12
20