Buttweld Fittings Manufacturers
Buy comprehensive Range of Butt weld Seamless and Welded Fittings in Stainless Steel, Carbon Steel, Alloy Steel, Duplex Steel, Super Duplex Steel, Hastelloy, Monel, Inconel, Titanium, Incoloy, Alloy 20, 254 SMO, Copper Nickel Materials.
Pipe Fittings and Flanges Manufacturers
We are Leading Manufacturers, Stockists, Suppliers, & Exporters of all types of pipe fittings, flanges, Steel Pipe Spool, Mitered Bend / Mitel Bend, Stub End, Lateral Tee, Rubber lined pipe spool in Mumbai, India.
Largest Pipe Fitting Manufacturer
ISO 9001:2015, 14001:2004, OHSAS 18001:2007, BVIS, IBR, BARC, DNV, BHEL Approved Manufacturer. Export in Saudi Arabia, Kuwait, Qatar, Belgium, Europe, Switzerland, Singapore.
PED Approved Industrial Flanges Producers
ISO 9001:2015 Certified Manufacturers of Slip-on, Weld Neck, RTJ, Blind, Socket Weld, Orifice, Lap Joint, Backing Ring Flange from ½" (15 NB) to 48″ (1200NB) size and Class 150 LBS, 300 LBS, 600 LBS, 900 LBS, 1500 LBS, 2500 LBS, DIN Standard ND-6,10, 16, 25, 40 Etc.
Forged Fittings Manufacturer
We Recognize as a Trusted Manufacturers of Forged Socket Weld and Threaded Fittings – ASME 16.11, MSS SP-95, MSS SP-79, 83, 95, 97, BS 3799 in all Dimensions and sizes.
The Precision you demand. The Experience you trust.
we specialise in premium quality products servicing the Oil & Gas, Mining, Energy and Petrochemical industries in India and Internationally.
Creative Piping Solutions Pvt. Ltd
Creative Piping Solutions Pvt. Ltd. (CPS), an AN ISO 9001:2015, 14001:2004, 18001:2007 Certified Company
Our in-house manufacturing plant locates in Mumbai near Sweeri, Maharashtra (INDIA), Manufacturing activity continues in 8,000 square meter open area 4,000 square meter factory and administrative building area.
Creative Piping Solution Pvt. Ltd is a Leading Manufacturer, extensive Stockholder of piping products for the Oil, Gas, Petrochemical and Nuclear Industries.
Creative Piping Solution Pvt. Ltd is the Manufacturer of Butt-weld Fittings, Forged Fittings, Compression Fittings, Outlets, Flanges & Long Radius Bends in Materials like Stainless Steel, Carbon Steel, Alloy Steel, Duplex & Super Duplex Steel, Nickel Alloys etc. We also manufacture and supply non-standard items in any material to customer's specifications.
Creative Piping Solutions Pvt. Ltd.
Creative Piping Solutions: Forged fittings, Pipe Fittings & Flanges Manufacturers work @ forefront of innovation+technology creativepiping.com
Size: 1/2″ – 10″ (Seamless) | 1/2″ – 48″ (Welded)
Size: 1/8″~4″ (DN6~DN100)
Size: 1/8" NB to 4" NB (Screwed-Threaded)
Size: 1/8″~4″ (DN6~DN100)
Size: 1/2″ (15 NB) to 48″ (1200NB)
Third Party Inspection
We offers third party inspection, It can be nominated by customers or Creative Piping Solutions Pvt. Ltd. These are world reputed third party inspection agencies like Bureau Veritas, Lloyds Register, SGS, IRS, ICB, DNV, FEDO, PDIL, Baxcounsel, ICIS, MECON, NPCL, EIL, BHEL, UHDE, PIPECON, IBR.
Quality Assurance
The process controls are rigidly enforced throughout the production time to make sure that complete inventory of finished pipe fittings, socket weld fittings, threaded fittings, flanges, and buttweld fittings are of the highest quality.
Material Inspection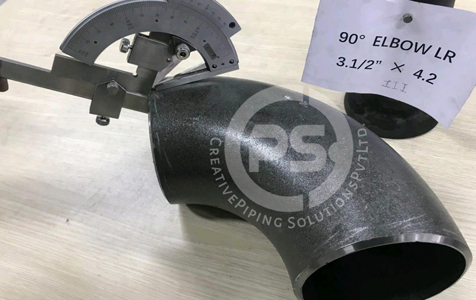 Important raw materials (eg. Stainless Steel, High Nickel Alloys, Carbon Steel, Alloy Steel), other ingredients are tested, prior to their use, for their essential chemical and physical properties, in a well equipped laboratory.
Packing & Forwarding
Packing Plays important role in protecting products, easy to load and unload. We usually pack pipe fitting and flange in pallets or plywood cases. more than 6 inches use pallet, Less than 6 inches use plywood cases. We also accept special requests from buyers.
Latest news
Participated in ADIPEC 2016 (7-10 November 2016)
We just finished a job for a customer in Canada on some 6″ STD 300# WNRF A182 F11 cl2 flanges.
LWNRF for Thailand, supplied 2″ 300# LWNRF x 9″ AND 14″ SA105N
Became No. 1 choice for some of the industries that use a lot of pipe fittings for their operations are: the Oil and Gas Industry, Food and Beverages Industry, Steel Industry, Chemical Industry, Pharmaceutical Industry, Sugar Industry, Cement Industry, etc.
Presenting eCommerce website where you can buy Pipe Fittings online. Made out of different types of metals such as Stainless Steel, Carbon Steel, and Alloy Steel etc.
Applicable Standards
Manufacturers of 2205 Duplex Fittings- Buttweld Pipe Fittings, Forged Threaded and Socket Weld Fittings, Flanges, Rubber Lined Pipe Spool, Mitered Bend / Miter Bend, Stub End, Lateral Tees using Standards such as ANSI, ASME, ASTM, AN, BSP, DIN, ISO, JIS, NPT, BSI, BIS, European Standards – CEN, Etc.
Recently Completed Projects
Their work is of such outstanding quality, they are clearly experts in their field.
For any manufacturing task, Factory are by far the most innovative in the industry.
The creativity we encountered throughout was simply world class. Highly recommended.
"

ISO 9001:2015 Certified Manufacturers & Exporters of Industrial Flanges and Pipe Fittings in Mumbai, India

"