Flanged Lateral Tee Manufacturer, ASME B16.9 Flange Lateral Tee Suppliers
Check Flanged Lateral Tee Dimensions & Price List, Threaded Flanged Lateral Tee Manufacturer in India
ANSI/ASME B16.9 Flanged Lateral Tee Pipe Fitting Exporters in India, Flanged Lateral Tee Suppliers in South Africa, , Australia, Singapore, Philippines, Malaysia, and, UK.
Creative Piping Solutions are a leading Supplier, Manufacturer, Exporters of Flanged Lateral Tee Pipe Fittings, which is renowned for corrosion resistance, durability, and high durability. The range is offered in several grades and configurations and is known for top tensile potency and longer service life. This Lateral Equal Tee Pipe fitting has certain features like Highly immune to water, Affordable price, top quality and, Compact size, High strength, Durability, Defect-free property, Reliable, Corrosion resistance, Perfect in dimension, Easy handling & installation. We are Manufacturer of Flanged Lateral Tee and provide top quality Flanged Lateral Tee in both large and little quantities worldwide & provide you with the latest cost in the market.
Flanged Lateral Tee is one quite Tee Pipe Fittings, that includes a forty-five-degree branch from a pipeline: (45° Flanged Lateral Tee). It's a type of steel pipe tee, however, the branch direction is completely different from the straight tee. On the contrary to the Flanged Lateral Tee, the straight tee encompasses a branch pipe direction of ninety degrees to the run pipe. The Flanged Lateral Tee divides Two branch pipes: one is that the same direction as the flow pipe. For the second lateral pipe fittings, once the flow pipe direction is horizontal to the bottom, we will select the Flanged Lateral Tee for higher support from the ground, and once the flow pipe direction is vertical, then we use the WYE Fitting. Lateral pipe fittings have two types: Flanged Lateral Tee and latrolet (also referred to as Lateral Outlet). The Flanged Lateral Tee's form is a kind of pipe tee, the butt attachment Flanged Lateral Tees are made from steel pipes or forgings, the manufacturing normal is ASME B16.9. There is also the solid Flanged Lateral Tee created to refer to ASME B16. 11, the ends are socket welding and threaded.
Flanged Lateral Tee Specifications
Lining materials:
PFA (virgin or conductive)
PP
Flanges according to EN 1092-1
(reading order A-B-C):
combinations of fixed flanges
combinations of loose flanges
combinations of fixed and loose flanges
Other pressure levels:
Special features:
earthing stud/lug
vent hole extension
flange stopper
Optional extras:
final painting
non-destructive testing
ASME B16.9 Flanged Lateral Tee Dimensions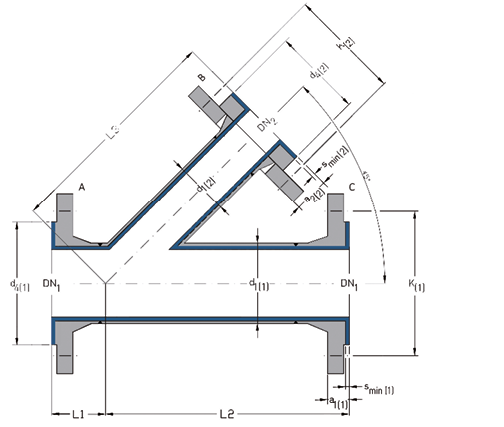 Nominal 
Pipe Size
Outside
Diameter OD
TYPE
X – S
STD
E & L
D
T
ID
E & L
D
T
ID
1
1¼
1½
1.315
1.660
1.900
B
B
B
6.50
7.25
8.50
2.00
2.25
2.50
0.179
0.191
0.200
0.957
1.278
1.500
5.75
6.25
7.00
1.75
1.75
2.00
0.133
0.140
0.145
1.049
1.380
1.610
2
2½
3
2.375
2.875
3.500
A/B
B
B
*8.00
**9.00
10.50
11.00
2.50
2.50
3.00
0.128
0.276
0.300
1.939
2.323
2.900
8.00
9.50
10.00
2.50
2.50
3.00
0.154
0.203
0.216
2.067
2.469
3.068
3½
4
5
4.000
4.500
5.562
B
A/B
B
12.50
*12.00
**13.50
15.00
3.00
3.00
3.50
0.318
0.337
0.375
3.364
3.826
4.813
11.50
12.00
13.50
3.00
3.00
3.50
0.226
0.237
0.258
3.548
4.026
5.047
6
8
10
6.625
8.625
10.750
A/B
B
B
*14.50
**17.50
20.50
24.00
*3.50
**4.00
5.00
5.50
0.432
0.500
0.500
5.761
7.625
9.750
14.50
17.50
20.50
3.50
4.50
5.00
0.280
0.322
0.365
6.065
7.981
10.020
12
14
16
12.750
14.000
16.000
B
B
B
27.50
31.00
34.50
6.00
6.50
7.50
0.500
0.500
0.500
11.750
13.000
15.000
24.50
27.00
30.00
5.50
6.00
6.50
0.375
0.375
0.375
12.000
13.250
15.250
18
20
24
18.000
20.000
24.000
B
B
B
37.50
40.50
47.50
8.00
8.50
10.00
0.500
0.500
0.500
17.000
19.000
23.000
32.00
35.00
40.50
7.00
8.00
9.00
0.375
0.375
0.375
17.250
19.250
23.250
Flanged Lateral Tee Materials
Stainless Steel Flanged Lateral Tee :
ASTM / ASME A/SA 182: F 304, 304L, 304H, 309S, 309H, 310S, 310H, 316, 316TI, 316H, 316L, 316LN, 317, 317L, 321, 321H, 347, 347H, 904L.
Duplex & Super Duplex Steel Flanged Lateral Tee:
ASTM / ASME A/SA 182: F44, F45, F51, F53, F55, F60, F61.
Nickel Alloy Flanged Lateral Tee :
ASTM / ASME SB 564 / 160 / 472: UNS 2200 (NICKEL 200), UNS 4400 (MONEL 400), UNS 8825 INCONEL (825), UNS 6600(INCONEL 600), UNS 6601 (INCONEL 601), UNS 6625 (INCONEL 625), UNS 10276 (HASTELLOY C 276), UNS 2201 (NICKEL 201), (ALLOY 20 / 20 CB 3)
Copper Alloy Flanged Lateral Tee :
ASTM / ASME SB 61 / 62 / 151 / 152: UNS NO. C 92200, UNS NO. C 83600, UNS NO. 70600, 71500, C 70600 (CU -NI- 90/10), C 71500 (CU -NI- 70/30), UNS NO C 10100, C 10200, C 10300, C 10800, C 12000, C 12200
Carbon Steel Flanged Lateral Tee :
ASTMA 105/A694/ A350 LF3/A350 LF2: F42, F46, F52, F56, F60, F65, F70
Alloy Steel Flanged Lateral Tee :
ASTM A182: F1, F5, F9, F11, F22, F91
Flanged Lateral Tee Application Industries
Refineries
Food Processing & Dairy
Oil and Gas Industry
Off-Shore Oil Drilling Companies
Pharmaceutical Equipment
Pulp & Paper Industry
Power Generation
Specialty Chemicals
Sea Water Equipment
Gas Processing
Chemical Equipment
Heat Exchangers
Petrochemicals
Pharmaceuticals
Condensers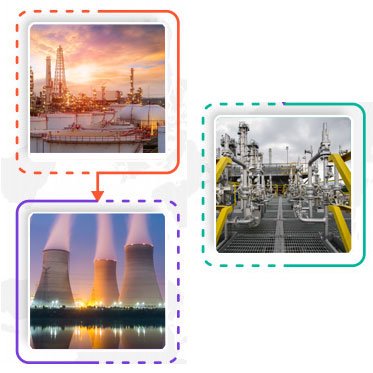 Flanged Lateral Tee Inspection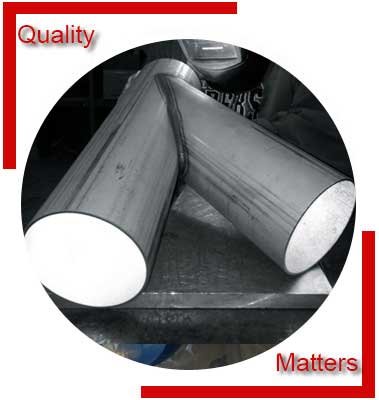 The Flanged Lateral Tee Inspection checked and Tested in accordance with applicable ASTM, ASME, MSS, DIN, EN, and JIS codes and standards. The Typical applicable codes and standards are ANSI / ASME. Our Experienced engineer team are ready to solve problem for you and take care of your industry. Our Experts Support you provide Flanged Lateral Tee inspection controls the entire Manufacturing Process, All Flanged Lateral Tee production progress are subject to strict in-process inspection at each stage of the Manufacturing process, from starting materials handling to finished products shipping.
Flanged Lateral Tee Packing & Forwading
The Importance of proper packing for piping goods. it is not only protection of products or save cash but also proof of our professionalize. So for various goods, there are different protecting packing methods. For packing of Flanged Lateral Tee with painting, We might use the bubble wrap to guard the painting. We might suggest client to use the anti-tarnish paper and bag to stop the rust. Each item is packed in poly pouches after multi stage inspections. These mini cartons are sealed and skilled Shrink Wrapping poly bag sealing machine to make sure safety from moisture. Such mini cartons are placed in bituminous hessian cloth 7 poly master carton. The contents of every master carton are shown on the carton. Each master carton is sealed with white printed heat salable strapping.
Flanged Lateral Tee Export & Supply to below mentioned Countries
MIDDLE EAST: Saudi Arabia (KSA), United Arab Emirates (UAE), Iran, Iraq, Jordan, Qatar, Bahrain, Oman, Kuwait, Turkey, Yemen, Syria, Cyprus.
ASIA: Malaysia, India, Taiwan, Cambodia, Singapore, Indonesia, Thailand, Vietnam, South Korea, Japan, Sri Lanka, Maldives, Bangladesh, Myanmar.
SOUTH AMERICA: Venezuela, Argentina, Bolivia, Colombia, Ecuador, Guyana, Paraguay, Uruguay, Brazil, Chile.
AFRICA: South Africa, Nigeria, Algeria, Angola, Libya, Egypt, Gabon, Sudan, Equatorial Guinea, The Republic Of Congo.
NORTH AMERICA: USA, Canada, Mexico, Panama, Costa Rica, Puerto Rica, Trinidad And Tobago, Jamaica, Bahamas, Denmark.
EUROPE: UK, Netherland, Russia, Norway, Germany, France, Italy, Spain, Ukraine, Belgium, Greece, Hungary, Albania, Austria, Finland, Ireland, Croatia, Slovenia, Malta, Switzerland, Slovakia, Czech Republic, Portugal.
Flanged Lateral Tee Export & Supply to below Mentioned Cities
Mumbai, Thane, Navi Mumbai, Pune, New Delhi, Bengaluru, Chennai, Surat, New York, Caracas, Howrah, Sydney, Ahvaz, Karachi, Algiers, Pimpri-Chinchwad, Vadodara, Kolkata, Gurgaon, Ahmedabad, Chiyoda, Ankara, Ho Chi Minh City, Bhopal, Dubai, Seoul, Hyderabad, Singapore, Abu Dhabi, Tehran, Calgary, Noida, Riyadh, Vung Tau, Al Khobar, Atyrau, Lagos, Ulsan, Faridabad, Houston, Hanoi, Toronto, Hong Kong, Rajkot, Brisbane, Los Angeles, London, Muscat, Edmonton, Busan, Mexico City, Doha, Jeddah, Manama, Montreal, Thiruvananthapuram, Milan, Moscow, Dallas, Coimbatore, Jakarta, Istanbul, Bangkok, Kuwait City, Sharjah, Petaling Jaya, Ernakulam, Visakhapatnam, Ludhiana, Aberdeen, Cairo, Geoje-si, Perth, Santiago, Chandigarh, Indore, Kuala Lumpur, Rio de Janeiro, Dammam, Secunderabad, Gimhae-si, Haryana, Colombo, Lahore, Bogota, Melbourne, Madrid, La Victoria, Granada, Courbevoie, Al Jubail, Port-of-Spain.