Rubber Lined Pipe Spool Manufacturer, Rubber Lining Pipe Spools Suppliers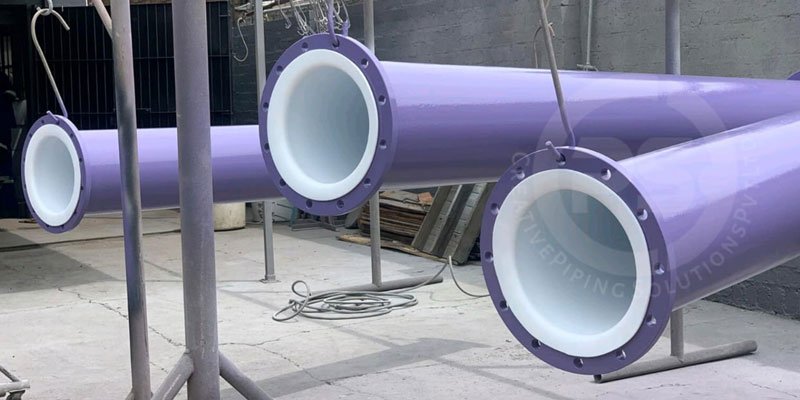 Rubber Lined Pipe Spool Suppliers, Check Rubber Lined Pipe Spool Dimensions & Price List, Rubber Lined Pipe Spool Manufacturer in India
ASTM F1545 Rubber Lined Pipe Spool Exporters in India, Rubber Lined Pipe Spool Suppliers in South Africa, Malaysia, Singapore, UK, UAE, and Philippines, Australia.
Creative Piping Solutions are available in a type of steel grade and are lined with fluoropolymers like PTFE (Polytetrafluoroethylene), PFA (Perfluoroalkoxy), etc. and PP (Polypropylene) and HDPE (High-Density Polyethylene). We are Manufacturing and Supplying a decent range of optimum quality Rubber Lined Pipe spools. The said product is a quiet bunch of pipes that are used for conveying liquids like water, oil, and gases. It's fabricated using high-grade material. To make it sturdy in construction, rust-free, high strength enduring then on. Rubber Lined Pipe Spool provides high-performance efficiency, abrasion resistance, optimum service, smooth functioning, and longer service life.
Rubber Lined Steel Spool Pipe takes steel pipe because of the external skeleton, and takes wear resistance, corrosion resistance, and heat resistance rubber because the liner layer, due to rubber physical and chemical properties, it can reduce impact, corrosion then on, the rubber buffer, greatly prolongs the service life of the pipeline, and reduces the value. Lined Spools and Fittings are manufactured specifically for utilization in corrosive environments and where purity is paramount. Lined Piping Systems (LPs) are standard products, manufactured consistent with ASTM, DIN, and IS standards. These pipes and fittings are manufactured fully in compliance with ASTM F 1545 — Standard Specifications for plastic-lined ferrous metal pipes, fittings, and flanges.
Creative Piping Solutions is a trusted manufacturers of Pipe Spool, FBE Coating Pipe Spool, Flanged Pipe Spool, Stainless Steel Pipe Spool, Carbon & Alloy Steel Pipe Spool, Duplex & Super Duplex Pipe Spool, High Nickel Alloys Pipe Spool.
Rubber Lined Spool Pipe Specifications
Size 1'' – 12'' (Larger sizes upon Request)
Diameter 100mm To 2500mm
Presure 1.6Mpa 2.0Mpa 2.5Mpa 3.0Mpa 4.0Mpa
Length Within 12M
Rubber Lining 4mm 6mm 8mm 12mm 20mm
Pipe Stainless Steel, Carbon Steel, and Other specialty metals on request
Liner PTFE, PFA, PVDF, PP, FEP, ETFE
Vacuum Full Vacuum
Standards ASTM F1545, AS4041:2006 Class 1, ASME IX:2010
Rubber Lining
Rubber Lining is applied to the inside surfaces of Pipes, Fittings, and tanks to provide protection from corrosive substances. Rubber lining plant are equipped with autoclaves, refrigerated facilities, steam and water boiler. Rubber Lining equipments and tool are also portable Enabling lining of steel storage. Linings provide ideal corrosion protections for steel surface that are exposed to severe chemicals stresses.
Rubber Liner Introduction
Natural Rubber, Vulcanized rubber, Neoprene Rubber, rubber, Acrylic Rubber (ACM Rubber), Butane Rubber (BR Rubber) , synthetic rubber (IIR Rubber) , Chlorosulfonated Polyethylene Rubber (CMS Rubber) / Hypalon Rubber, Ethylene Propylene Diene Monomer Rubber, Fluoroelastomers Rubber (FKM Rubber) / Viton Rubber, Isoprene Rubber (IR Rubber) , Nitrite Rubber (NBR Rubber) , Perfluoroelastomer Rubber (FFKM Rubber), Poly sulfide Rubber (PSR Rubber) , synthetic rubber (SIR Rubber) , Styrene Butadiene Rubber, Polychloroprene Rubber (CR Rubber) / Neoprene Rubber.
Rubber lining Spool Pipe Fabrication
Rubber lining Spool Pipes is a comprehensible choice. The rubber lining protects against abrasion and corrosion and therefore, the mechanical strength of steel makes it indispensable. Rubber Spool pipes alone wouldn't be ready to withstand the heat and a high it might be subjected to during a chemical actions plant and a mild steel pipe would be easily corroded. The bond between low-carbon steel and rubber is ideal during this situation to make sure smooth functioning. While fabricating Rubber Line Pipes Spool certain measures need to be taken to make sure the longevity of the pipe.
The surface preparations have got to be done to smoothen the pipe surface by grinding in order there is not any air gap while rubber lining and no sharp edge, and point are present which could damage the rubber. At the equivalent time, we've to make sure the strength of the piping system by making the welded joints strong enough. For this proper, 'V' cuts are made on the joints before welding is completed. In this way, not only is the strength of the joint maintained, but the outer surface also remains smooth. The within of the flange joints are ground in order that the surface is smooth and round in order that the rubber lining becomes easier and uninterrupted. Once fitting, welding, and grinding are completed, the pipes are then inspected consistently with the size given within the drawing. Hydro and DP tests are performed on the piping system to make sure, there's no leakage. Then it's sent for sandblasting to get rid of minute particles on the surface then finally the rubber lining process is administered.
PTFE Lining in Pipes
We are one of the markets leaders in providing PTFE Rubber Lining within the Pipe. PTFE Lined Pipe are acclaimed among our customer. The quality thickness of PTFE Lining is 3 mm, however, we will perform Lining of upper thickness also on demand of our clients. The liner is going to be in compliance with ASTM F1545. We will provide the pipes with both sides fixed/loose flanges as per the need of client.
Features
PTFE Lining is performed in Pipes from 1" ID to 12" ID.
Lining is done using PFA and FEP material also.
Lining is performed within the max length of 6 MTR Pipe.
PTFE Lining In Spool
We are one of the market leaders in providing PTFE Lining within the Spool. Our PTFE Lined Spools are acclaimed amongst our customers. The quality thickness of PTFE Lining is 3 mm, however, we will perform Lining of upper thickness also on demand of our clients. The liner is going to be in compliance with ASTM F1545. We will provide the spools with both sides fixed / loose flanges as per the need of client.
Features
Lining is performed within the max length of 6 MTR spool.
PTFE Lining is performed in Spool from 1" ID to 12" ID
Longer service life
Lining is done using PFA and FEP material also.
Rubber Lined Spool Pipe Materials
Stainless Steel Rubber Lined Spool Pipe :
ASTM / ASME A/SA 182: F 304, 304L, 304H, 309S, 309H, 310S, 310H, 316, 316TI, 316H, 316L, 316LN, 317, 317L, 321, 321H, 347, 347H, 904L.
Duplex & Super Duplex Steel Rubber Lined Spool Pipe :
ASTM / ASME A/SA 182: F44, F45, F51, F53, F55, F60, F61.
Nickel Alloy Rubber Lined Spool Pipe :
ASTM / ASME SB 564 / 160 / 472: UNS 2200 (NICKEL 200), UNS 4400 (MONEL 400), UNS 8825 INCONEL (825), UNS 6600(INCONEL 600), UNS 6601 (INCONEL 601), UNS 6625 (INCONEL 625), UNS 10276 (HASTELLOY C 276), UNS 2201 (NICKEL 201), (ALLOY 20 / 20 CB 3)
Copper Alloy Rubber Lined Spool Pipe :
ASTM / ASME SB 61 / 62 / 151 / 152: UNS NO. C 92200, UNS NO. C 83600, UNS NO. 70600, 71500, C 70600 (CU -NI- 90/10), C 71500 (CU -NI- 70/30), UNS NO C 10100, C 10200, C 10300, C 10800, C 12000, C 12200
Carbon Steel Rubber Lined Spool Pipe :
ASTMA 105/A694/ A350 LF3/A350 LF2: F42, F46, F52, F56, F60, F65, F70
Alloy Steel Rubber Lined Spool Pipe :
ASTM A182: F1, F5, F9, F11, F22, F91
Rubber Lined Spool Pipe Application Industries
Refineries
Food Processing & Dairy
Oil and Gas Industry
Off-Shore Oil Drilling Companies
Pharmaceutical Equipment
Pulp & Paper Industry
Power Generation
Specialty Chemicals
Sea Water Equipment
Gas Processing
Chemical Equipment
Heat Exchangers
Petrochemicals
Pharmaceuticals
Condensers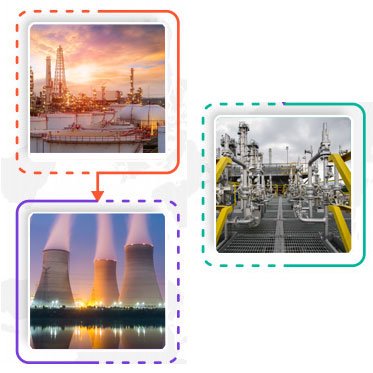 Rubber Lined Spool Pipe Inspection
The Rubber Lined Spool Pipe Inspection checked and tested in accordance with applicable ASTM, ASME, MSS, DIN, EN, and JIS codes and standards. The typical applicable codes and standards. our experienced engineer team are ready to solve problem for you and take care of your industry. Our experts support you provide Rubber Lined Spool Pipe inspection controls the entire manufacturing process, All Pipe Spooling production progress are subject to strict in-process inspection at each stage of the Manufacturing process, from starting materials handling to finished products shipping.
Rubber Lined Spool Pipe Packing & Forwading
The Importance of proper packing for piping goods. it is not only protection of products or save cash but also proof of our professionalize. So for various goods, there are different protecting packing methods. For packing of Rubber Lined Spool Pipe with painting, we might use the bubble wrap to guard the painting. we might suggest client to use the anti-tarnish paper and bag to stop the rust. Each item is packed in poly pouches after multi stage inspections. These mini cartons are sealed and skilled Shrink Wrapping poly bag sealing machine to make sure safety from moisture. Such mini cartons are placed in bituminous hessian cloth 7 poly master carton. The contents of every master carton are shown on the carton. Each master carton is sealed with white printed heat salable strapping.
Rubber Lined Spool Pipe Export & Supply to below mentioned Countries
MIDDLE EAST: Saudi Arabia (KSA), United Arab Emirates (UAE), Iran, Iraq, Jordan, Qatar, Bahrain, Oman, Kuwait, Turkey, Yemen, Syria, Cyprus.
ASIA: Malaysia, India, Taiwan, Cambodia, Singapore, Indonesia, Thailand, Vietnam, South Korea, Japan, Sri Lanka, Maldives, Bangladesh, Myanmar.
SOUTH AMERICA: Venezuela, Argentina, Bolivia, Colombia, Ecuador, Guyana, Paraguay, Uruguay, Brazil, Chile.
AFRICA: South Africa, Nigeria, Algeria, Angola, Libya, Egypt, Gabon, Sudan, Equatorial Guinea, The Republic Of Congo.
NORTH AMERICA: USA, Canada, Mexico, Panama, Costa Rica, Puerto Rica, Trinidad And Tobago, Jamaica, Bahamas, Denmark.
EUROPE: UK, Netherland, Russia, Norway, Germany, France, Italy, Spain, Ukraine, Belgium, Greece, Hungary, Albania, Austria, Finland, Ireland, Croatia, Slovenia, Malta, Switzerland, Slovakia, Czech Republic, Portugal.
Rubber Lined Spool Pipe Export & Supply to below Mentioned Cities
Mumbai, Thane, Navi Mumbai, Pune, New Delhi, Bengaluru, Chennai, Surat, New York, Caracas, Howrah, Sydney, Ahvaz, Karachi, Algiers, Pimpri-Chinchwad, Vadodara, Kolkata, Gurgaon, Ahmedabad, Chiyoda, Ankara, Ho Chi Minh City, Bhopal, Dubai, Seoul, Hyderabad, Singapore, Abu Dhabi, Tehran, Calgary, Noida, Riyadh, Vung Tau, Al Khobar, Atyrau, Lagos, Ulsan, Faridabad, Houston, Hanoi, Toronto, Hong Kong, Rajkot, Brisbane, Los Angeles, London, Muscat, Edmonton, Busan, Mexico City, Doha, Jeddah, Manama, Montreal, Thiruvananthapuram, Milan, Moscow, Dallas, Coimbatore, Jakarta, Istanbul, Bangkok, Kuwait City, Sharjah, Petaling Jaya, Ernakulam, Visakhapatnam, Ludhiana, Aberdeen, Cairo, Geoje-si, Perth, Santiago, Chandigarh, Indore, Kuala Lumpur, Rio de Janeiro, Dammam, Secunderabad, Gimhae-si, Haryana, Colombo, Lahore, Bogota, Melbourne, Madrid, La Victoria, Granada, Courbevoie, Al Jubail, Port-of-Spain.