Long Radius Mitered Pipe Bends Manufacturer, Long Radius Miter Bend Suppliers
Check Steel ASME B16.9 Long Radius Mitered Pipe Bends Dimensions & Price List, ANSI B16.9 Long Radius Miter Bends Manufacturer in India
Long Radius Mitered Pipe Bends Exporters in India, Long Radius Mitre Bend Pipe, Long Radius Mitered Bends, Long Radius Buttweld Mitered Pipe Bends Suppliers in South Africa, UK, Australia, Malaysia, Singapore, and Philippines.
Creative Piping Solutions are a foremost Manufacturer, Supplier, and Exporter of providing an honest assortment of Long Radius Mitered Bend. We offer are fictional and developed with exactness these are manufactured creating use of the best class basic material alongside trendy tools and machinery. These are well inspected at the premise of our customers on time. The Long Radius Mitered Bend provided by us are provided on time as per the changing requirements of our customers.
A Long Radius Miter Bend or Long Radius Miter Elbow is ready by mitering (angle cutting) and welding pipe ends of the cut-pieces, usually at a 45° and 90° to make a corner. There are two sorts of miter bend, one non-perpendicular bend & another is 3-D bend. Long Radius Miter Elbow/Bend is formed from miter cut pieces of pipe. The Miter pieces are also called gores, There are two end gores and two middle gores during a 4-piece Miter bend. A Long Radius Miter bend is a bend that is formed by cutting pipe ends at an angle and joining the pipe ends.
Our offered Long Radius Mitered Bend is being developed and designed in accordance using International quality standards at our infrastructure facility to achieve the very best scales of quality. We are Manufacturing ASME B16.9 Long Radius Mitered Bends, it proudly caters to the requirements of our customers in Oil & Gas, Power Generation, Petrochemical, and Industrial Construction. ANSI B16.9 Long Radius Mitered Bends available in various sizes and shapes as per clients specifications we manufactured it and sell at the most affordable Price.
Long Radius Mitered Pipe Bends Specifications
Size 1/2″NB TO 48″NB IN
Type Seamless / ERW / Welded / Fabricated
Dimensions ASME/ANSI B16.9, ASME B16.28, MSS-SP-43
Bend Radii Cast Iron
Bending Radius(R) R=1D, 2D, 3D, 5D, 6D, 8D, 10D or Custom
Bending angle (θ) 15°, 30°, 45°, 60°, 90°, 135°, 180°
ASME B16.9 Long Radius Mitered Bend Dimensions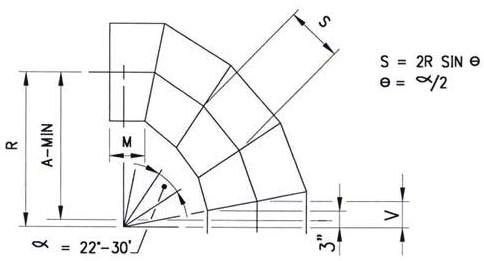 NOM.
DIA
A Min.
R
Radius
S
Inches
M
30
42w"
45″
17p"
 
32
44s"
48″
18s"
 
34
47r"
51″
19f"
 
36
49f"
54″
21w"
 
38
52i"
57″
22r"
 
40
55w"
60″
23i"
 
42
57s"
63″
24p"
8r"
44
60r"
66″
25s"
 
46
62f"
69″
27″
 
48
65i"
72″
28i"
9p"
50
68w"
75″
29r"
 
52
70s"
78″
30i"
 
54
73r"
81″
31p"
10f"
56
75f"
84″
32f"
 
58
78i"
87″
34″
 
60
81w"
90″
35w"
 
62
83s"
93″
36y"
 
64
86y"
96″
37i"
 
66
88f"
99″
38p"
 
68
91i"
102″
39f"
 
70
94w"
105″
41″
 
72
96s"
108″
42r"
 
78
104i"
117″
45s"
15r"
84
112y"
126″
49i"
 
86
115″
129″
50y"
 
Long Radius Mitered Bend Materials
Stainless Steel Long Radius Mitered Bend :
ASTM / ASME A/SA 182: F 304, 304L, 304H, 309S, 309H, 310S, 310H, 316, 316TI, 316H, 316L, 316LN, 317, 317L, 321, 321H, 347, 347H, 904L.
Duplex & Super Duplex Steel Long Radius Mitered Bend:
ASTM / ASME A/SA 182: F44, F45, F51, F53, F55, F60, F61.
Nickel Alloy Long Radius Mitered Bend :
ASTM / ASME SB 564 / 160 / 472: UNS 2200 (NICKEL 200), UNS 4400 (MONEL 400), UNS 8825 INCONEL (825), UNS 6600(INCONEL 600), UNS 6601 (INCONEL 601), UNS 6625 (INCONEL 625), UNS 10276 (HASTELLOY C 276), UNS 2201 (NICKEL 201), (ALLOY 20 / 20 CB 3)
Copper Alloy Long Radius Mitered Bend :
ASTM / ASME SB 61 / 62 / 151 / 152: UNS NO. C 92200, UNS NO. C 83600, UNS NO. 70600, 71500, C 70600 (CU -NI- 90/10), C 71500 (CU -NI- 70/30), UNS NO C 10100, C 10200, C 10300, C 10800, C 12000, C 12200
Carbon Steel Long Radius Mitered Bend :
ASTMA 105/A694/ A350 LF3/A350 LF2: F42, F46, F52, F56, F60, F65, F70
Alloy Steel Long Radius Mitered Bend :
ASTM A182: F1, F5, F9, F11, F22, F91
Important Points about Long Radius Miter Bend
Miter bends aren, 't standard fittings.
It is also called fabricated bend.
Used mainly generally services (category "D" fluid).
If utilized in process lines then above 14" pipe size.
Used above 6" for utility lines.
Miter bend are often fabricated with 2, 3, 4, & 5 miters.
The numbers of cut are going to be a maximum of 5.
Limitations of Long Radius Miter Bend
Higher pressure drop.
Higher turbulence.
Higher risk of corrosion due to more numbers of weld joints.
Less strength.
Not suitable for pigging.
High skilled manpower required.
Advantages of Long Radius Miter Pipe Bend
Low cost.
No Thinning Required.
It is made at the positioning or within the workshop..
Long Radius Mitered Pipe Bends Application Industries
Refineries
Food Processing & Dairy
Oil and Gas Industry
Off-Shore Oil Drilling Companies
Pharmaceutical Equipment
Pulp & Paper Industry
Power Generation
Specialty Chemicals
Sea Water Equipment
Gas Processing
Chemical Equipment
Heat Exchangers
Petrochemicals
Pharmaceuticals
Condensers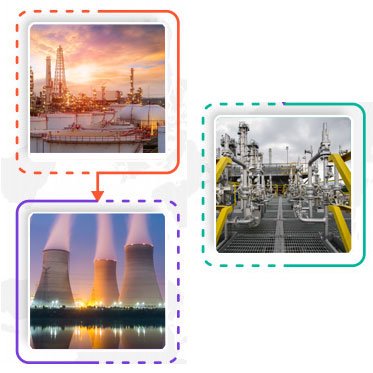 Long Radius Mitered Pipe Bends Inspection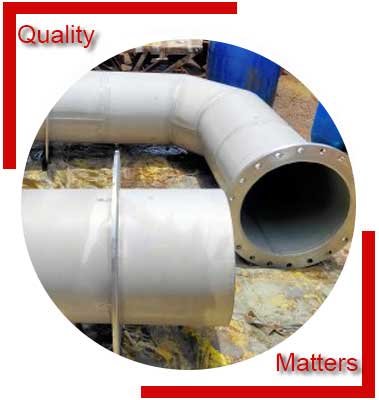 The Long Radius Mitered Pipe Bends Inspection checked and Tested in accordance with applicable ASTM, ASME, MSS, DIN, EN, and JIS codes and standards. The Typical applicable codes and standards are ANSI / ASME. Our Experienced engineer team are ready to solve problem for you and take care of your industry. Our Experts Support you provide Long Radius Miter Pipe Bend inspection controls the entire Manufacturing Process, All Long Radius Mitered Pipe Bends production progress are subject to strict in-process inspection at each stage of the Manufacturing process, from starting materials handling to finished products shipping.
Long Radius Mitered Pipe Bends Packing & Forwading
The Importance of proper packing for piping goods. it is not only protection of products or save cash but also proof of our professionalize. So for various goods, there are different protecting packing methods. For packing of Long Radius Mitered Pipe Bends with painting, We might use the bubble wrap to guard the painting. We might suggest client to use the anti-tarnish paper and bag to stop the rust. Each item is packed in poly pouches after multi stage inspections. These mini cartons are sealed and skilled Shrink Wrapping poly bag sealing machine to make sure safety from moisture. Such mini cartons are placed in bituminous hessian cloth 7 poly master carton. The contents of every master carton are shown on the carton. Each master carton is sealed with white printed heat salable strapping.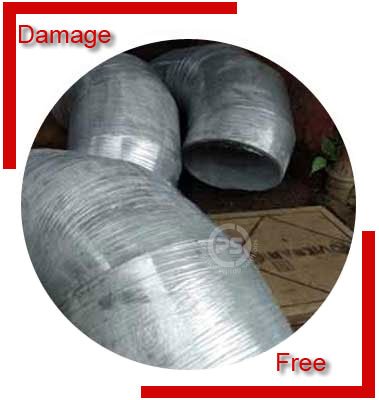 Long Radius Mitered Pipe Bends Export & Supply to below mentioned Countries
MIDDLE EAST: Saudi Arabia (KSA), United Arab Emirates (UAE), Iran, Iraq, Jordan, Qatar, Bahrain, Oman, Kuwait, Turkey, Yemen, Syria, Cyprus.
ASIA: Malaysia, India, Taiwan, Cambodia, Singapore, Indonesia, Thailand, Vietnam, South Korea, Japan, Sri Lanka, Maldives, Bangladesh, Myanmar.
SOUTH AMERICA: Venezuela, Argentina, Bolivia, Colombia, Ecuador, Guyana, Paraguay, Uruguay, Brazil, Chile.
AFRICA: South Africa, Nigeria, Algeria, Angola, Libya, Egypt, Gabon, Sudan, Equatorial Guinea, The Republic Of Congo.
NORTH AMERICA: USA, Canada, Mexico, Panama, Costa Rica, Puerto Rica, Trinidad And Tobago, Jamaica, Bahamas, Denmark.
EUROPE: UK, Netherland, Russia, Norway, Germany, France, Italy, Spain, Ukraine, Belgium, Greece, Hungary, Albania, Austria, Finland, Ireland, Croatia, Slovenia, Malta, Switzerland, Slovakia, Czech Republic, Portugal.
Long Radius Mitered Pipe Bends Export & Supply to below Mentioned Cities
Mumbai, Thane, Navi Mumbai, Pune, New Delhi, Bengaluru, Chennai, Surat, New York, Caracas, Howrah, Sydney, Ahvaz, Karachi, Algiers, Pimpri-Chinchwad, Vadodara, Kolkata, Gurgaon, Ahmedabad, Chiyoda, Ankara, Ho Chi Minh City, Bhopal, Dubai, Seoul, Hyderabad, Singapore, Abu Dhabi, Tehran, Calgary, Noida, Riyadh, Vung Tau, Al Khobar, Atyrau, Lagos, Ulsan, Faridabad, Houston, Hanoi, Toronto, Hong Kong, Rajkot, Brisbane, Los Angeles, London, Muscat, Edmonton, Busan, Mexico City, Doha, Jeddah, Manama, Montreal, Thiruvananthapuram, Milan, Moscow, Dallas, Coimbatore, Jakarta, Istanbul, Bangkok, Kuwait City, Sharjah, Petaling Jaya, Ernakulam, Visakhapatnam, Ludhiana, Aberdeen, Cairo, Geoje-si, Perth, Santiago, Chandigarh, Indore, Kuala Lumpur, Rio de Janeiro, Dammam, Secunderabad, Gimhae-si, Haryana, Colombo, Lahore, Bogota, Melbourne, Madrid, La Victoria, Granada, Courbevoie, Al Jubail, Port-of-Spain.