Flanged Split Tee Manufacturer, Flanged Hot Tap Split Tee Fitting Suppliers
Check Flanged Split Tee Dimensions & Price List, Flanged Split Tee Pipe Fittings Manufacturer in India
Flanged Split Tee Exporters in India, Flanged Split Tee Suppliers in South Africa, UK, Philippines, Malaysia, Australia, and Singapore.
Creative Piping Solutions is one of the leading Manufacturers, Suppliers, and Exporters of top quality Flanged Split Tees in India. We provide these Flanged Split Tee in various types, wall thickness, material grades, and sizes as per the client's requirements. Flanged Split Tee is utilized in various application industries like oil & gas, automobile, acid & chemical, pharmaceutical, and cement industries. We provide these Flanged Split Tee at the most competitive prices.
Flanged Split Tee is Split Tee with a flange in its branch. Split tee is comparable to regular tee according to ASME B16.9. But the most pipe of the split is cut within the middle. Split tee is mainly used for decent tapping of the pipeline. Hot tapping is additionally called pressure tapping, which is the method of creating a connection to existing piping, or pressure vessels without the interrupting or emptying of that section of pipe. Split tee is especially wont to repair the pipeline.
Flanged Split Tee Specifications
Standards ANSI B31.1, B31.3, ANSI B31.4 & B31.8
Size 2" TO 48"
Pressure Ratings 150# TO 2500#
DIN DIN2605, DIN2615, DIN2616, DIN2617, DIN28011
EN EN10253-1, EN10253-2
Schedule SCH20, SCH30, SCH40, STD, SCH80, XS, SCH60, SCH80, SCH120, SCH140, SCH160, XXS
Form Split Tee
Flanged Split Tee Materials
Stainless Steel Flanged Split Tee :
ASTM / ASME A/SA 182: F 304, 304L, 304H, 309S, 309H, 310S, 310H, 316, 316TI, 316H, 316L, 316LN, 317, 317L, 321, 321H, 347, 347H, 904L.
Duplex & Super Duplex Steel Flanged Split Tee :
ASTM / ASME A/SA 182: F44, F45, F51, F53, F55, F60, F61.
Nickel Alloy Flanged Split Tee :
ASTM / ASME SB 564 / 160 / 472: UNS 2200 (NICKEL 200), UNS 4400 (MONEL 400), UNS 8825 INCONEL (825), UNS 6600(INCONEL 600), UNS 6601 (INCONEL 601), UNS 6625 (INCONEL 625), UNS 10276 (HASTELLOY C 276), UNS 2201 (NICKEL 201), (ALLOY 20 / 20 CB 3)
Copper Alloy Flanged Split Tee :
ASTM / ASME SB 61 / 62 / 151 / 152: UNS NO. C 92200, UNS NO. C 83600, UNS NO. 70600, 71500, C 70600 (CU -NI- 90/10), C 71500 (CU -NI- 70/30), UNS NO C 10100, C 10200, C 10300, C 10800, C 12000, C 12200
Carbon Steel Flanged Split Tee :
ASTMA 105/A694/ A350 LF3/A350 LF2: F42, F46, F52, F56, F60, F65, F70
Alloy Steel Flanged Split Tee :
ASTM A182: F1, F5, F9, F11, F22, F91
Flanged Split Tee Application Industries
Refineries
Food Processing & Dairy
Oil and Gas Industry
Off-Shore Oil Drilling Companies
Pharmaceutical Equipment
Pulp & Paper Industry
Power Generation
Specialty Chemicals
Sea Water Equipment
Gas Processing
Chemical Equipment
Heat Exchangers
Petrochemicals
Pharmaceuticals
Condensers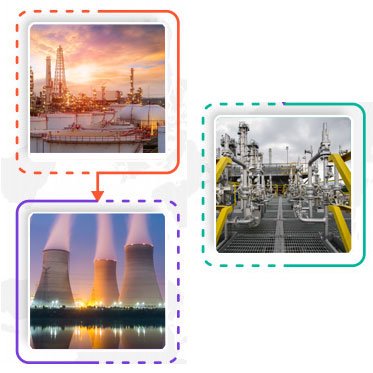 Flanged Split Tee Inspection
The Flanged Split Tee Inspection checked and tested in accordance with applicable ASTM, ASME, MSS, DIN, EN, and JIS codes and standards. The typical applicable codes and standards are ANSI / ASME. our experienced engineer team are ready to solve problem for you and take care of your industry. Our experts Support you provide Flanged Split Tee inspection controls the entire manufacturing process, All Flanged Split Tee production progress are subject to strict in-process inspection at each stage of the Manufacturing process, from starting materials handling to finished products shipping.
Flanged Split Tee Packing & Forwading
The importance of proper packing for piping goods. it is not only protection of products or save cash but also proof of our professionalize. So for various goods, there are different protecting packing methods. For packing of Flanged Split Tee with painting, We might use the bubble wrap to guard the painting. we might suggest client to use the anti-tarnish paper and bag to stop the rust. Each item is packed in poly pouches after multi stage inspections. These mini cartons are sealed and skilled Shrink Wrapping poly bag sealing machine to make sure safety from moisture. Such mini cartons are placed in bituminous hessian cloth 7 poly master carton. The contents of every master carton are shown on the carton. Each master carton is sealed with white printed heat salable strapping.
Flanged Split Tee Export & Supply to below mentioned Countries
MIDDLE EAST: Saudi Arabia (KSA), United Arab Emirates (UAE), Iran, Iraq, Jordan, Qatar, Bahrain, Oman, Kuwait, Turkey, Yemen, Syria, Cyprus.
ASIA: Malaysia, India, Taiwan, Cambodia, Singapore, Indonesia, Thailand, Vietnam, South Korea, Japan, Sri Lanka, Maldives, Bangladesh, Myanmar.
SOUTH AMERICA: Venezuela, Argentina, Bolivia, Colombia, Ecuador, Guyana, Paraguay, Uruguay, Brazil, Chile.
AFRICA: South Africa, Nigeria, Algeria, Angola, Libya, Egypt, Gabon, Sudan, Equatorial Guinea, The Republic Of Congo.
NORTH AMERICA: USA, Canada, Mexico, Panama, Costa Rica, Puerto Rica, Trinidad And Tobago, Jamaica, Bahamas, Denmark.
EUROPE: UK, Netherland, Russia, Norway, Germany, France, Italy, Spain, Ukraine, Belgium, Greece, Hungary, Albania, Austria, Finland, Ireland, Croatia, Slovenia, Malta, Switzerland, Slovakia, Czech Republic, Portugal.
Flanged Split Tee Export & Supply to below Mentioned Cities
Mumbai, Thane, Navi Mumbai, Pune, New Delhi, Bengaluru, Chennai, Surat, New York, Caracas, Howrah, Sydney, Ahvaz, Karachi, Algiers, Pimpri-Chinchwad, Vadodara, Kolkata, Gurgaon, Ahmedabad, Chiyoda, Ankara, Ho Chi Minh City, Bhopal, Dubai, Seoul, Hyderabad, Singapore, Abu Dhabi, Tehran, Calgary, Noida, Riyadh, Vung Tau, Al Khobar, Atyrau, Lagos, Ulsan, Faridabad, Houston, Hanoi, Toronto, Hong Kong, Rajkot, Brisbane, Los Angeles, London, Muscat, Edmonton, Busan, Mexico City, Doha, Jeddah, Manama, Montreal, Thiruvananthapuram, Milan, Moscow, Dallas, Coimbatore, Jakarta, Istanbul, Bangkok, Kuwait City, Sharjah, Petaling Jaya, Ernakulam, Visakhapatnam, Ludhiana, Aberdeen, Cairo, Geoje-si, Perth, Santiago, Chandigarh, Indore, Kuala Lumpur, Rio de Janeiro, Dammam, Secunderabad, Gimhae-si, Haryana, Colombo, Lahore, Bogota, Melbourne, Madrid, La Victoria, Granada, Courbevoie, Al Jubail, Port-of-Spain.