Buttweld 45 Degree Elbow Manufacturer, ANSI/ASME B16.9 45 Degree Short Radius Elbow Suppliers
ASME/ANSI B16.9, ANSI B16.28, MSS-SP-43 45 Degree Long Radius Elbow Suppliers, Check ASME B16.9 Welded 45° Short Radius Elbow Dimensions & Buttweld 45° Long Radius Pipe Elbow Price List, Buttweld 45° Long Radius Elbow, Forged Threaded 45 Degree Elbow, Socket Weld 45 Degree Elbow Manufacturer in India.
ASME / ANSI B16.9 Seamless Buttweld 45° Elbow, High-Quality Buttweld 45 degree Long Radius Elbow Exporters in India, Industrial Welded 45° Long Radius Elbow, ANSI/ASME B16.9 Stainless Steel Buttweld Elbow also available in Duplex Steel, Alloy Steel, Hastelloy, Monel, Carbon Steel, Inconel, Titanium, Incoloy, Super Duplex, Alloy 20, 254 SMO, Copper Nickel, High & Low-Temperature Steel, Mild Steel Suppliers in South Africa, Malaysia, Singapore, UK, Philippines, Australia and UAE.
Creative Piping Solutions is a renowned Manufacturer, Exporter, and Supplier of an intensive range of Elbow 45 Degree across the world. We are involved within the manufacturing elbows during a sort of standards, sizes, types, grades, and dimensions as per the demands of our valued customers. We consider our client's needs and specialize in offering them accurate and efficient Buttweld Elbow 45 Degree at a cost-effective price. Our manufactured Elbow 45 Degree is essentially the foremost important pipe fitting form that got wont to connect several points in between pipe lengths so on create directional fluid flow at 45 degrees and several other degrees.
45 degrees Short Radius Elbow means the crash occurred on a pointy bend. If the Elbow Radius is that the same as pipe diameter, then it's called a short radius elbow, and also called the SR elbow, generally for low and low-speed pipelines. Short Radius in 45 degrees is sometimes attached to copper, plastic, steel, cast iron, and lead and it also can be connected to the stainless and rubber fixture. These Short Radius Elbows are widely utilized in the chemical, food, water system facilities, electronic industry. We even have the newest and high-tech machinery in our manufacturing unit for the assembly of the simplest quality of those Short Radius Elbows.
The Function of a 45° elbow is that the same as a 90° elbow, but the measurement of dimensions is different from that of a 90° elbow. If the radius is larger than the pipe diameter, then it's called the Long radius Elbow, applied for the pressure and high rate flow pipelines. The pipe elbow is mounted between the 2 pipes in order that the fluid direction cab is changed to 45 degrees as compared to the 90 degrees Elbow, 45 degrees Long Radius Elbows produces the friction and it provides with the lower pressure.
ANSI B16.9 Buttweld 45 Degree Elbow Specifications
Type Industrial Buttweld 45 Degree Elbow
Size 1/2″~24″ NB. (Seamless & 100% X-Ray Welded, Fabricated)
In Form 45° Short Radius Elbow, 45° Long Radius Elbow.
Standard ANSI B16.9, ANSI B16.28, MSS-SP-43
Class 150 LBS, 300 LBS, 600 LBS, 900 LBS, 1500 LBS, 2500 LBS, DIN Standard ND-6,10, 16, 25, 40
Thickness SCH10, SCH20, SCH30, STD SCH40, SCH60, XS, SCH 80, SCH 100, SCH 120, SCH 140, SCH 160, XXS available with NACE MR 01-75.
DIN DIN2527, DIN2566, DIN2573, DIN2576, DIN2641, DIN2642, DIN2655, DIN2656, DIN2627, DIN2628, DIN2629, DIN 2631, DIN2632, DIN2633, DIN2634, DIN2635, DIN2636, DIN2637, DIN2638, DIN2673
BS BS4504 , BS4504, BS1560, BS10
Specialize As per drawing
Coating / Surface Treatment Anti-rust Paint, Oil Black Paint, Yellow Transparent, Zinc Plated, Cold and Hot Dip Galvanized
Connection Type Buttwelding Fittings
Dimensions ANSI B16.9, ANSI B16.28, MSS-SP-43
Usage/Applications Oil Field, Offshore, Water System, Shipbuilding, Natural Gas, Electric Power, Pipe Projects etc.
Buttweld 45 Degree Elbow Dimensions
Manufacturing Standards of Buttweld 45 Degree Elbow
| | |
| --- | --- |
| ASME Standard | ASME/ANSI B16.9, ASME/ANSI B16.28, MSS-SP-43 |
| DIN Standard | DIN28011, DIN2617, DIN2616, DIN2615, DIN2605 |
| EN Standard | EN10253-2, EN10253-1 |
| ASME B16.25 | Buttwelding Ends |
| ASME B16.9 | Factory-Made Wrought Fittings Buttwelding |
| ASME B16.28 | Wrought Steel 45 Degree SR Elbows and Wrought Steel 45 Degree LR Elbows |
| ASTM A403 – ASME SA403 | Standard Specification for Wrought Austenitic Stainless Steel Piping Fitting |
| MSS SP-43 | Wrought & Fabricated Butt-Welding Fitting for Low Pressure, Corrosion Resistant Applications |
ASME / ANSI B16.9 Buttweld 45 Degree Elbow Material & Grades
Stainless Steel Buttweld 45° Pipe Elbow :
ASTM A403 WP316/316L, ASTM A403 SA / A 774 WP-S, WP-W, WP-WX 304/304L, ASTM A182 F316L, 304L, DIN 1.4301, DIN1.4306, DIN 1.4401, DIN 1.4404
Duplex & Super Duplex Steel Buttweld 45° Pipe Elbow :
ASTM A 815, ASME SA 815 UNS NO S31803, S32205. UNS S32750, S32950. Werkstoff No. 1.4462
Carbon Steel Buttweld 45° Pipe Elbow :
ASTM A234, ASME SA234 WPB , WPBW, WPHY 42, WPHY 46, WPHY 52, WPH 60, WPHY 65 & WPHY 70.
Low Temperature Carbon Steel Buttweld 45° Pipe Elbow : ASTM A420 WPL3, A420 WPL6
Alloy Steel Buttweld 45° Pipe Elbow :
ASTM / ASME A/SA 234 Gr. WP 1, WP 5, WP 9, WP 11, WP 12, WP 22, WP 91
Nickel Alloy Buttweld 45° Pipe Elbow :
ASTM B336, ASME SB336, Nickel 200 (UNS No. No2200), Nickel 201 (UNS No. N02201), Monel 400 (UNS No. N04400), Monel 500 (UNS No. N05500), Inconel 800 (UNS No. N08800), Inconel 825 (UNS No. N08825), Inconel 600 (UNS No. N06600), Inconel 625 (UNS No. N06625), Inconel 601 (UNS No. N06601), Hastelloy C 276 (UNS No. N10276), Alloy 20 (UNS No. N08020), Titanium (Grade I & II), Cupro-Nickel 70/30, CuNi10Fe1Mn, CuNi30Mn1Fe.
ASME B16.9 Buttweld 45° Elbow Weight Chart
NPS
inches
ELBOWS SR 45°
Sch.
5S
Sch.
10S
Sch.
40S
Sch.
80S
1/2
0.05
0.06
0.08
0.10
3/4
0.06
0.07
0.09
0.11
1
0.09
0.15
0.18
0.20
1 1/4
0.13
0.20
0.25
0.35
1 1/2
0.18
0.30
0.40
0.50
2
0.30
0.50
0.70
0.90
2 1/2
0.60
0.85
1.35
1.80
3
0.90
1.30
2.00
2.90
4
1.40
2.00
4.00
5.90
5
2.90
3.60
6.50
9.70
6
4.00
5.00
10.5
16.0
8
7.40
10.0
21.5
33.5
10
13.6
16.8
38.5
52.5
12
23.4
27.0
59.0
79.0
14
29.0
35.0
70.0
94.0
16
41.3
47.0
95.0
125
18
51.8
59.0
120
158
20
73.0
85.0
146
194
24
122
140
210
282
ASME B16.9 Buttweld 45 Degree Elbow Manufacturing Process
The most appropriate Manufacturing Process for every product are going to be decided considerately of its material, sizes, shape, use, standards, and special properties. There are various Pipe Fittings Manufacturing Processes that wont to manufacture 45 deg short radius elbow, 45 deg long radius elbow, and other pipe Fittings.
One of the foremost common Pipe Fittings Manufacturing Process of Buttweld 45 Degree Elbow Pipe Fittings from the pipe is a mandrel method which is quite hot forming methods. During this method, The pipe is cut into pieces and push with the assistance of a hydraulic pump. The heating coil heats the pipe and, it's pushed over a die called, "mandrel" which allows the pipe to expand and bend simultaneously. This method is often wont to manufacture a good range of the diameter of 45 deg Elbow.
Buttweld 45-degree short radius elbow are manufactured from Seamless Pipe and from Welded Pipe with filler materials. Large diameter fittings are manufactured from Plate. We've only covered the renowned Pipe Fittings Manufacturing Process here. There are many other methods that used to support the necessities.
Dimensional Tolerances of Buttweld 45-degree Elbow as per ASME B16.9
Nominal Pipe Size
1/2 to 2½
3 to 3½
4
5 to 8
Outside Diameter
at Bevel (D)
+ 1.6
– 0.8
1.6
1.6
+ 2.4
– 1.6
Inside Diameter at End
0.8
1.6
1.6
1.6
Center to End LR (A/B)
2
2
2
2
Center to End 3D (A/B)
3
3
3
3
Nominal Pipe Size
10 to 18
20 to 24
26 to 30
32 to 48
Outside Diameter
at Bevel (D)
+ 4
– 3.2
+ 6.4
– 4.8
+ 6.4
– 4.8
+ 6.4
– 4.8
Inside Diameter at End
3.2
4.8
+ 6.4
– 4.8
+ 6.4
– 4.8
Center to End LR (A/B)
2
2
3
5
Center to End 3D (A/B)
3
3
6
6
Wall Thickness (t)
Not less than 87.5% of Nominal Wall Thickness
Available Types of ASME B16.9 Buttweld 45 Degree Elbow
| | |
| --- | --- |
| Stainless Steel 45 Degree Pipe Elbow | SS 45 Deg. Elbows |
| ANSI B16.9 45 Degree Buttweld Elbow | ASME B16.28 Buttweld 45 Degree Elbow |
| Welded 45 Deg Elbow | Seamless 45° Pipe Elbow |
| Carbon Steel 45deg.Elbow | High Quality 45° Elbow |
| ASTM A403 Stainless Steel 45 Deg Elbows | Duplex Steel 45° Pipe Elbow |
| Super Duplex Steel 45 Deg Elbow | Copper Nickel 45 Deg Elbow |
| Buttweld Elbow 45 Degree | Butt Weld Long Radius 45 Degree Elbows |
| Steel Pipe Elbow | 45° Short Radius Elbow |
| ASME B16.9 45 deg Long Radius Elbow | Schedule 10 45 Degree Elbow |
| High Nickel Alloy 45° Elbow | Hastelloy 45° Pipe Elbow |
| Titanium 45 Degree Elbow | Inconel Butt weld 45 Deg Pipe Elbow |
Butt weld 45 Degree Elbow Application Industries
Refineries
Food Processing & Dairy
Oil and Gas Industry
Off-Shore Oil Drilling Companies
Pharmaceutical Equipment
Pulp & Paper Industry
Power Generation
Specialty Chemicals
Sea Water Equipment
Gas Processing
Chemical Equipment
Heat Exchangers
Petrochemicals
Pharmaceuticals
Condensers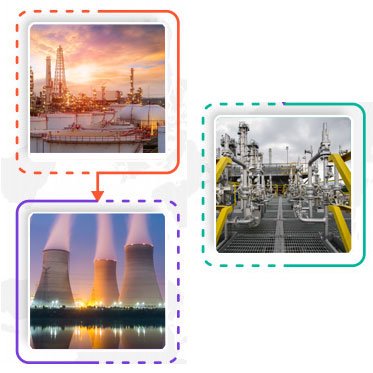 45 Degree Elbow Inspection
All buttweld 45 Degree Elbow are inspected and tested in accordance with the relevant product standard (eg. ASME/ANSI B16.9, ANSI B16.28, MSS-SP-43) or code and as stated in the Purchase requisition. Pressure testing or Hydro-testing of Stainless Steel 45 Degree Elbow where required by the standard shall be performed using water having less than 30ppm of chlorides. All welds in welded buttweld pipe fittings shall be 100% radiographed in accordance with the individual ASTM Standard. In lieu of radiography, Ultrasonic examination is not allowed. Examinations and/or tests may be reviewed and / or witnessed by the contractor or their authorized third party inspector at our facility. We are responsible for informing the contractor about the availability of goods for inspection and testing. Inspection is performed as per "Vendor Quality Requirement form" attached with the Inquiry / Purchase requisition. As a manufacturer, we submit the certificate of conformity of the material duly certified by inspector.
Buttweld 45 Degree Elbow Packing & Forwarding
Seamless 45 Degree Elbow are packed ready for export in a manner which allows easy handling and prevents damage. We submit our standard packing procedure to purchaser for approval. Open ends of Buttweld 45 degree Ebow are supplied with heavy duty plastic protective plugs or caps. For bevelled ends, we insure that caps can protect the full area of the bevel. All material up to 6" in sizes shall be supplied in wooden boxes or cartons and as appropriate and adequately strapped. Buttweld 45 Degree Elbow Fittings over 6" shall be supplied on wooden pallets with metal straps. Also, the pallets shall be shrink wrapped. All shipping documentation is provided for seamless delivery from mill to purchaser.
Buttweld 45 Degree Pipe Elbow Export & Supply to below mentioned Countries
MIDDLE EAST: Saudi Arabia (KSA), United Arab Emirates (UAE), Iran, Iraq, Jordan, Qatar, Bahrain, Oman, Kuwait, Turkey, Yemen, Syria, Cyprus.
ASIA: Malaysia, India, Taiwan, Cambodia, Singapore, Indonesia, Thailand, Vietnam, South Korea, Japan, Sri Lanka, Maldives, Bangladesh, Myanmar.
SOUTH AMERICA: Venezuela, Argentina, Bolivia, Colombia, Ecuador, Guyana, Paraguay, Uruguay, Brazil, Chile.
AFRICA: South Africa, Nigeria, Algeria, Angola, Libya, Egypt, Gabon, Sudan, Equatorial Guinea, The Republic Of Congo.
NORTH AMERICA: USA, Canada, Mexico, Panama, Costa Rica, Puerto Rico, Trinidad, and Tobago, Jamaica, Bahamas, Denmark.
EUROPE: UK, Netherlands, Russia, Norway, Germany, France, Italy, Spain, Ukraine, Belgium, Greece, Hungary, Albania, Austria, Finland, Ireland, Croatia, Slovenia, Malta, Switzerland, Slovakia, Czech Republic, Portugal.
Buttweld 45 Degree Elbow Pipe Fittings Export & Supply to below Mentioned Cities
Mumbai, Thane, Navi Mumbai, Pune, New Delhi, Secunderabad, Gimhae-si, Haryana, Colombo, Lahore, Thiruvananthapuram, Milan, Moscow, Dallas, Coimbatore, Jakarta, Istanbul, Bangkok, Kuwait City, Sharjah, Petaling Jaya, Ernakulam, Abu Dhabi, Tehran, Calgary, Noida, Riyadh, Vung Tau, Al Khobar, Atyrau, Lagos, Ulsan, Faridabad, Houston, Hanoi, Toronto, Hong Kong, Rajkot, Bengaluru, Chennai, Surat, New York, Caracas, Howrah, Sydney, Ahvaz, Karachi, Algiers, Pimpri-Chinchwad, Vadodara, Kolkata, Gurgaon, Ahmedabad, Chiyoda, Dubai, Seoul, Hyderabad, Singapore, Doha, Jeddah, Manama, Montreal, Brisbane, Los Angeles, Ankara, Ho Chi Minh City, Bhopal, Mexico City, Ludhiana, Aberdeen, Cairo, Geoje-si, Perth, Santiago, Chandigarh, Indore, Kuala Lumpur, Rio de Janeiro, Dammam, London, Muscat, Edmonton, Busan, Visakhapatnam, Bogota, Melbourne, Madrid, La Victoria, Granada, Courbevoie, Al Jubail, Port-of-Spain.