ASME B16.47 / ANSI / ASME B16.5 Nipoflange Manufacturer
ASME B16.47 Nipoflange Suppliers, Series A and Series B Nipoflange, BS10 Nipoflange, AWWA C207 Nipoflange, EN 1092-1 Nipoflange Price List. Reinforced Nipoflange Dimensions, ANSI B16.5 Class 150, Class 300, Class 600, Class 900, Class 1500, Class 2500 Nipo Flange Manufacturer in India
Stockists of Nipoflange in Duplex Steel, Super Duplex Steel, Stainless Steel, Nickel Alloy, Inconel, Hastelloy, Monel, Titaniun, Incoloy, Copper Nickel, Aluminium, Bronze, Alloy 20, 254 SMO, Mild Steel, Carbon Steel, Alloy Steel, Brass. Nipoflange Exporters & Suppliers in South Africa, Malaysia, Singapore, UK, Philippines, Australia and Dubai, UAE.
Creative Piping Solutions is a renowned Manufacturers, Suppliers, and Exporters for a wide range of Nipo Flanges in different dimensions and specifications. These Nipo Flange are available in a variety of grades, sizes, and standards. These are primarily in 90° branch connection. The nipolet is not welded and manufactured in one piece. These Nipo flanges help in holding the pressure, so most industries prefer using Nipo Flange. It is a ring that attached to the pipe in order to provide increase strength and supports. The Nipo flanges are connected with bolts and screwed or welded to the pipe end.
The Nipoflange is a combination of a Welding Neck flange and a supposedly Nippolet. On the run pipe side, a Nipo Flange is designed like a weldolet. That means the branch connections on the run pipe side are welding connections. It has flanges connections. The Nipo Flange connections can be designed according to the customer's requirements ( DIN or ANSI). It's used to connect the reinforced fittings. It takes place of traditional connecting ways. The body of Nipoflange is created in excellent Forging.
ANSI / ASME B16.5 Nipoflange Specifications
Flange Size ½" (15 NB) to 48″ (1200NB)
Flange Class 150 LBS, 300 LBS, 600 LBS, 900 LBS, 1500 LBS, 2500 LBS, DIN Standard ND-6,10, 16, 25, 40.
Flange DIN DIN2527, DIN2566, DIN2573, DIN2576, DIN2641, DIN2642, DIN2655, DIN2656, DIN2627, DIN2628, DIN2629, DIN 2631, DIN2632, DIN2633, DIN2634, DIN2635, DIN2636, DIN2637, DIN2638, DIN2673
Flange BS BS4504 , BS4504, BS1560, BS10
Flange Standard ANSI B16.5, ANSI B16.47, ANSI B16.36, ANSI B16.48, BS 4504, EN1092, UNI 2277/2278, DIN, JIS, SABS1123, GOST-12820
Flange Coating/Surface Treatment Anti-rust Paint, Oil Black Paint, Yellow Transparent, Zinc Plated, Cold and Hot Dip Galvanized
Flange Connection Type Ring Type Joint, Lap-Joint Face, Raised Face, Flat Face, Large Male-Female, Small Male-Female, Large, Tongue & Groove, Small Tongue & Groove
Flange Face Type Flat Face (FF), Raise Face (RF), Ring Joint (RJT)
Flange Dimensions ANSI B16.5, ANSI B16.47 Series A & B, MSS SP44, ASA, API-605, AWWA, Custom Drawings
Flange JIS 5K, 10K, 16K, 20K, 30K, 40K, 63K
Flange UNI 6Bar 10Bar 16Bar 25Bar 40Bar
Flange Coating Oil Black Paint, Anti-rust Paint, Zinc Plated, Yellow Transparent, Cold and Hot Dip Galvanized
Production technique Forged, Heat treated and machined
Test Certificates EN 10204/3.1B, Raw Materials Certificate, 100% Radiography Test Report, Third Party Inspection Report, etc
Flange Test Direct-reading Spectrograph, Hydrostatic testing machine, X-ray detector, UI trasonic flaw detector, Magnetic particle detector
Equipment Press machine, Bending machine, Pushing Machine, electric bevelling machine, Sand-blasting machine etc
Flange Origin Indian / West Europe / Japan / USA / Korean
Nipo Flange Dimensions & Weight Chart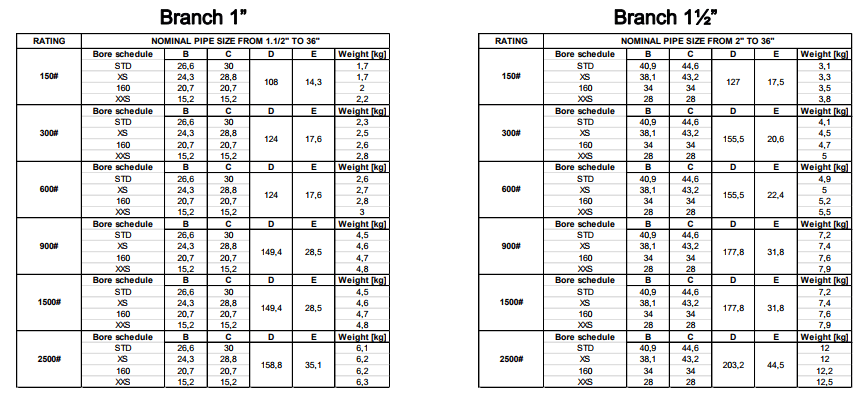 Why Creative Piping Solutions Pvt. Ltd.
Quality Products:

Raw Materials are adeuately tested
Conformaity to ASTM, ASME, DIN, EN, JIS.
Marking, Heat Number. Specificatios
100% Radiography Test Report
Third Party Inspection, Buyer Inspection

Value Added Services:

Epoxy & fbe coating
Hot dipped galvanizing.
Sand blasting
Electro polish or other special finishes
Custom shape cutting, fabrication services
Threading, soldering

Manufacturing Expertise:

Custom size flanges
High quality Industrial Flanges manufacturer.
Accurate dimensions
Products with unifrom wall thickness
We use top quality raw materials
Over 10 years of manufacturing experience
Nipo Flange Materials
Most common materials used in the production of Nipo Flange are Carbon Steel, Stainless Steel, Duplex Steel, Nickel Alloys. Complete list of grades, materials, and manufacturing standards are given below.
Carbon Steel Nipo Flange:
High Temperature Carbon Steel ASTM A105: A53, A106, API 5L
Low Temperature Carbon Steel ASTM A350: LF1, LF2, LF3
High Yield Carbon Steel ASTM A694: F42, F52, F60, F65
Alloy Steel Nipo Flange:
Alloy Steel ASTM A182: F5, F9, F11, F22, F1, F5/F5a, F91
Stainless Steel Nipo Flange:
Stainless Steel ASTM A182: F304, F304H, F304L, F304N, F304LN, F309H, F310, F310H, F310MoLN, F316, F316H, F316L, F316N, F316LN, F316Ti, F317, F317L, F321, F321H, F347, F347H, F348, F348H, 904L
Duplex Steel Nipo Flange:
Duplex Steel ASTM A182: Duplex 2205 (UNS S31803 – UNS S32205)
Super Duplex ASTM A182: UNS S32750 – UNS S32760
Nickel Alloy Nipo Flange:
ASTM B160: Nickel 200 Flange | Nickel 201
ASTM B166: Inconel 600 Flange
ASTM B564: Inconel 625 Flange
ASTM B425: Incoloy 800 Flange
ASTM B564: Incoloy 825 Flange
ASTM B564: Monel K400 Flange | Monel 400
ASTM B564: Hastelloy C276 Flange | Hastelloy B, Hastelloy D, Hastelloy C-276, Hastelloy G
ANSI B16.5 Nipo Flange Manufacturing Process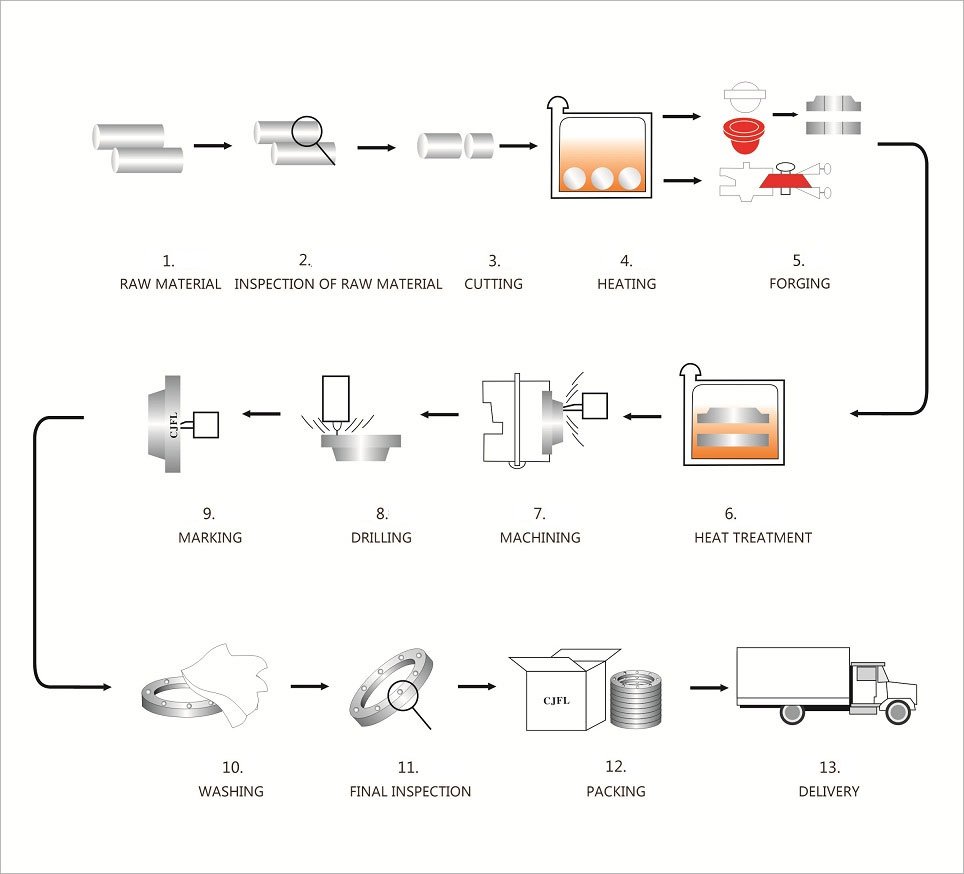 ASME B16.47 Nipo Flange Application Industries
Refineries
Food Processing & Dairy
Oil and Gas Industry
Off-Shore Oil Drilling Companies
Pharmaceutical Equipment
Pulp & Paper Industry
Power Generation
Specialty Chemicals
Sea Water Equipment
Gas Processing
Chemical Equipment
Heat Exchangers
Petrochemicals
Pharmaceuticals
Condensers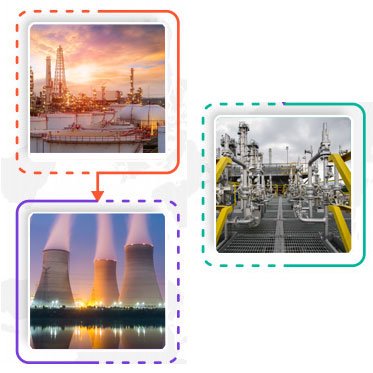 ASME B16.47 / ANSI B16.5 Nipo Flange Inspection
Our qualified inspection engineer performed inspection on Nipo Flange based on reference standards of ASME B31.1, B31.3, B16.5, ASME II , V , VIII , IX , DIN, AS/NZ standards etc. A visual test performed to identify surface porosity, cracks, and open structure defects. A dimensional inspection performed to confirm that the different types of flange, in this case its Nipoflange, Raised Face Nipoflange, Flat Face Nipoflange, etc. are manufactured according to the ASME Specification, that specifies the dimensions and indicates the design tolerances. A tensile test is conducted to test the yield strength, the tensile strength, and the elongation restrictions. A hardness test is conducted to check micro-hardness and surface hardness to confirm the acid environment performance and material performance. Magnetic particle inspection is performed to detect locating surface and near subsurface discontinuities in ferromagnetic materials, if some surface cracks, folds, thrust fault, pit or gas hole.
ANSI B16.5 Nipo Flange Packing & Forwarding
We follow the packing procedure of Nipo Flange to insure damage free delivery of BS10 Nipoflange to our valuable customers in India and overseas. usually the packing way include wooden pallet, wooden box, iron & steel pallet, iron & steel cage etc. Because of the normal wooden pallets or wooden boxes have to do fumigation treatment, we choose plywood box or case or plywood pallet to pack Series A and Series B Nipoflange without fumigation treatment. Whatever plywood or iron & steel packing way, we make sure that it must be strong, seaworthy, waterproof. All details of ASME B16.5 Nipoflange are also stick with flanges packing so that it can be easy to understand and we insure that packing can ease the process of loading and unloading of goods.
ASME B16.5 Nipo Flange Export & Supply to below mentioned Countries
MIDDLE EAST: Saudi Arabia (KSA), United Arab Emirates (UAE), Iran, Iraq, Jordan, Qatar, Bahrain, Oman, Kuwait, Turkey, Yemen, Syria, Cyprus.
ASIA: Malaysia, India, Taiwan, Cambodia, Singapore, Indonesia, Thailand, Vietnam, South Korea, Japan, Sri Lanka, Maldives, Bangladesh, Myanmar.
SOUTH AMERICA: Venezuela, Argentina, Bolivia, Colombia, Ecuador, Guyana, Paraguay, Uruguay, Brazil, Chile.
AFRICA: South Africa, Nigeria, Algeria, Angola, Libya, Egypt, Gabon, Sudan, Equatorial Guinea, The Republic Of Congo.
NORTH AMERICA: USA, Canada, Mexico, Panama, Costa Rica, Puerto Rico, Trinidad And Tobago, Jamaica, Bahamas, Denmark.
EUROPE: UK, Netherlands, Russia, Norway, Germany, France, Italy, Spain, Ukraine, Belgium, Greece, Hungary, Albania, Austria, Finland, Ireland, Croatia, Slovenia, Malta, Switzerland, Slovakia, Czech Republic, Portugal.
ASME B16.5 Nipo Flange Export & Supply to below Mentioned Cities
Mumbai, Thane, Navi Mumbai, Pune, New Delhi, Secunderabad, Gimhae-si, Haryana, Colombo, Lahore, Thiruvananthapuram, Milan, Moscow, Dallas, Coimbatore, Jakarta, Istanbul, Bangkok, Kuwait City, Sharjah, Petaling Jaya, Ernakulam, Abu Dhabi, Tehran, Calgary, Noida, Riyadh, Vung Tau, Al Khobar, Atyrau, Lagos, Ulsan, Faridabad, Houston, Hanoi, Toronto, Hong Kong, Rajkot, Bengaluru, Chennai, Surat, New York, Caracas, Howrah, Sydney, Ahvaz, Karachi, Algiers, Pimpri-Chinchwad, Vadodara, Kolkata, Gurgaon, Ahmedabad, Chiyoda, Dubai, Seoul, Hyderabad, Singapore, Doha, Jeddah, Manama, Montreal, Brisbane, Los Angeles, Ankara, Ho Chi Minh City, Bhopal, Mexico City, Ludhiana, Aberdeen, Cairo, Geoje-si, Perth, Santiago, Chandigarh, Indore, Kuala Lumpur, Rio de Janeiro, Dammam, London, Muscat, Edmonton, Busan, Visakhapatnam, Bogota, Melbourne, Madrid, La Victoria, Granada, Courbevoie, Al Jubail, Port-of-Spain.