Threaded Boss Manufacturer, ANSI/ASME B16.11 Forged Threaded Boss Suppliers
ASME/ANSI B16.11, MSS SP-79, 95, 83, 95, 97, BS 3799 Threaded Boss Suppliers, Check ASME B16.11 Threaded Boss Dimensions & Forged Threaded Boss Price List, ASME B16.11 Threaded Boss Manufacturer in India.
ASME / ANSI B16.11 Threaded Boss, High-Quality Threaded Boss Exporters in India, Industrial SMO 254 Threaded Boss, Stainless Steel Threaded Boss also available in Duplex Steel, Alloy Steel, Hastelloy, Monel, Carbon Steel, Inconel, Titanium, Incoloy, Super Duplex, Alloy 20, 254 SMO, Copper Nickel, High & Low-Temperature Steel, Mild Steel Suppliers in Malaysia, South Afric, Singapore, UK, Philippines, Australia, and UAE.
Creative Piping Solutions is a professional Manufacturer, Supplier, and global Exporter of ASME / ANSI B16.11 Threaded Boss. In our inventory, these Forged Threaded Boss are stocked in huge quantities in various standards, specifications, and non-standard dimensions. Our offered range of products is widely utilized in different industrial sectors and demanding applications.
The Threaded Boss is a technique for joining two fluid-carrying pipes, tubing, and hoses. In these forged fittings, a male threaded part is aligned into a female threaded part that provides a mechanical seal. It differs from others in this an extra nut is tightened over the threaded boss into a chambered area creating a fluid-tight seal. this system is encountered in hydraulics, although it's been applied to other systems sort as gas and vacuum systems.
ASME B16.11 Forged Threaded Boss system connectors should never be used with any kind of connectors as leaks are likely. Under high fluid systems, it's commonly utilized within the mechanism. A failure and leak within the piping arrangement are quite dangerous that might cause severe damage.
ANSI B16.11 Threaded Boss Specifications
Forged Type Threaded Pipe Fittings
Threaded Size 1/8″~4″ (DN6~DN100)
Threaded Pressure Class 2000LBS, 3000LBS, 6000LBS, 9000LBS
Threaded Dimension ASME 16.11, MSS SP-79, 83, 95, 97, BS 3799
Threads   ISO, DIN, NPT, BSPT
Threaded Form Threaded Boss
Forged Threaded Boss Dimensions
Manufacturing Standards of Threaded Boss
ASME B16.11 – Threadeding Forged Fittings.
MSS SP-43 – Wrought and Fabricated Threaded Fittings for Low Pressure, Corrosion Resistant Applications.
MSS SP-95 – Swage(d) Nipples and Bull Plugs.
BS3799 – Specification for Steel pipe fittings, screwed Threaded for the petroleum industry.
ASTM A182 – ASME SA182 – Standard Specification for Wrought Austenitic Stainless Steel Piping Fittings.
ASME / ANSI B16.11 Threaded Boss Material & Grades
Stainless Steel Threaded Boss :
ASTM A403 WP316/316L, ASTM A403 SA / A 774 WP-S, WP-W, WP-WX 304/304L, ASTM A182 F316L, 304L, DIN 1.4301, DIN1.4306, DIN 1.4401, DIN 1.4404
Duplex & Super Duplex Steel Threaded Boss :
ASTM A 815, ASME SA 815 UNS NO S31803, S32205. UNS S32750, S32950. Werkstoff No. 1.4462
Carbon Steel Threaded Boss :
ASTM A234, ASME SA234 WPB , WPBW, WPHY 42, WPHY 46, WPHY 52, WPH 60, WPHY 65 & WPHY 70.
Low Temperature Carbon Steel Threaded Boss : ASTM A420 WPL3, A420 WPL6
Alloy Steel Threaded Boss :
ASTM / ASME A/SA 234 Gr. WP 1, WP 5, WP 9, WP 11, WP 12, WP 22, WP 91
Nickel Alloy Threaded Boss :
ASTM B336, ASME SB336, Nickel 200 (UNS No. No2200), Nickel 201 (UNS No. N02201), Monel 400 (UNS No. N04400), Monel 500 (UNS No. N05500), Inconel 800 (UNS No. N08800), Inconel 825 (UNS No. N08825), Inconel 600 (UNS No. N06600), Inconel 625 (UNS No. N06625), Inconel 601 (UNS No. N06601), Hastelloy C 276 (UNS No. N10276), Alloy 20 (UNS No. N08020), Titanium (Grade I & II), Cupro-Nickel 70/30, CuNi10Fe1Mn, CuNi30Mn1Fe.
Forged Threaded Boss Types by Size, Class, and Wall Thickness
Description
Class Designation
2000
3000
6000
Threaded Boss
1/2 – 4
1/2 – 2
1/2 – 2
1/2 – 4
1/2 – 2
1/2 – 2
1/2 – 4
1/2 – 2
1/2 – 2
Pipe Wall
SCH 80 / XS
SCH 160
XXS
Angularity Tolerance of Forged Threaded Boss
ND
Max off angle
Max off plane
Q
P
1/2 a 4
1
2
5 a 8
2
4
10 a 12
3
5
14 a 16
3
7
18 a 24
4
10
26 a 30
5
10
32 a 42
5
13
44 a 48
5
20
Available Types of ASME B16.11 Threaded Boss
| | |
| --- | --- |
| ASME B16.11 Forged Threaded Boss | Forged Boss 3000LB Threaded |
| Stainless Steel Screwed Boss | SS Forged Threaded Boss |
| ANSI B16.11 Forged Threaded Bosss | BS 3799 Forged Screwed Boss |
| Forged Threaded Boss | Forged Screwed Hex Head Boss |
| 150 lb. Threaded Fittings Boss | Threaded Forged Head Boss |
| Forged Threaded Boss | Threaded Forged Boss |
| Carbon Steel Threaded Hex Head Boss | High Quality Threaded Boss |
| ASTM A182 Threaded Stainless Steel Boss | Duplex Steel Threaded Boss |
| Super Duplex Steel Screwed Boss | Copper Nickel Threaded Boss |
| High Nickel Alloy Forged Threaded Boss | Hastelloy Screwed Hex Head Boss |
| Titanium Forged Threaded Boss | Inconel Threaded Boss |
Forged Threaded Boss Application Industries
Refineries
Food Processing & Dairy
Oil and Gas Industry
Off-Shore Oil Drilling Companies
Pharmaceutical Equipment
Pulp & Paper Industry
Power Generation
Specialty Chemicals
Sea Water Equipment
Gas Processing
Chemical Equipment
Heat Exchangers
Petrochemicals
Pharmaceuticals
Condensers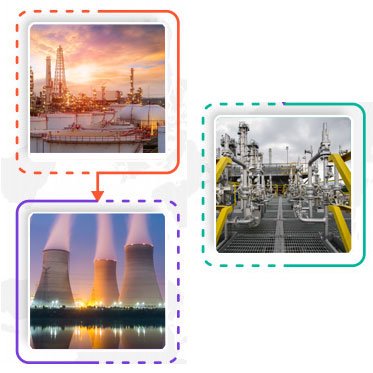 ANSI/ASME B16.11 Threaded Boss Inspection
All Forged Threaded Boss are inspected and tested in accordance with the relevant product standard (ASME/ANSI B16.11, MSS-SP-79) or code and as stated in the Purchase requisition. Pressure testing or Hydro-testing of Stainless Steel Threaded Boss where required by the standard shall be performed using water having less than 30ppm of chlorides. All welds in welded Threaded pipe fittings shall be 100% radiographed in accordance with the individual ASTM Standard. In lieu of radiography, Ultrasonic examination is not allowed. Examinations and/or tests may be reviewed and / or witnessed by the contractor or their authorized third party inspector at our facility. We are responsible for informing the contractor about the availability of goods for inspection and testing. Inspection is performed as per "Vendor Quality Requirement form" attached with the Inquiry / Purchase requisition. As a manufacturer, we submit the certificate of conformity of the material duly certified by inspector.
Threaded Boss Packing & Forwarding
Threaded Boss are packed ready for export in a manner which allows easy handling and prevents damage. We submit our standard packing procedure to purchaser for approval. Open ends of Threaded Boss are supplied with heavy duty plastic protective plugs or caps. For bevelled ends, we insure that caps can protect the full area of the bevel. All material up to 6" in sizes shall be supplied in wooden boxes or cartons and as appropriate and adequately strapped. Threaded Boss Pipe Fittings over 6" shall be supplied on wooden pallets with metal straps. Also, the pallets shall be shrink wrapped. All shipping documentation is provided for seamless delivery from mill to purchaser.
ASME B16.11 Threaded Boss Export & Supply to below mentioned Countries
MIDDLE EAST: Saudi Arabia (KSA), United Arab Emirates (UAE), Iran, Iraq, Jordan, Qatar, Bahrain, Oman, Kuwait, Turkey, Yemen, Syria, Cyprus.
ASIA: Malaysia, India, Taiwan, Cambodia, Singapore, Indonesia, Thailand, Vietnam, South Korea, Japan, Sri Lanka, Maldives, Bangladesh, Myanmar.
SOUTH AMERICA: Venezuela, Argentina, Bolivia, Colombia, Ecuador, Guyana, Paraguay, Uruguay, Brazil, Chile.
AFRICA: South Africa, Nigeria, Algeria, Angola, Libya, Egypt, Gabon, Sudan, Equatorial Guinea, The Republic Of Congo.
NORTH AMERICA: USA, Canada, Mexico, Panama, Costa Rica, Puerto Rico, Trinidad, and Tobago, Jamaica, Bahamas, Denmark.
EUROPE: UK, Netherlands, Russia, Norway, Germany, France, Italy, Spain, Ukraine, Belgium, Greece, Hungary, Albania, Austria, Finland, Ireland, Croatia, Slovenia, Malta, Switzerland, Slovakia, Czech Republic, Portugal.
ANSI B16.11 Threaded Boss Export & Supply to below Mentioned Cities
Mumbai, Thane, Navi Mumbai, Pune, New Delhi, Secunderabad, Gimhae-si, Haryana, Colombo, Lahore, Thiruvananthapuram, Milan, Moscow, Dallas, Coimbatore, Jakarta, Istanbul, Bangkok, Kuwait City, Sharjah, Petaling Jaya, Ernakulam, Abu Dhabi, Tehran, Calgary, Noida, Riyadh, Vung Tau, Al Khobar, Atyrau, Lagos, Ulsan, Faridabad, Houston, Hanoi, Toronto, Hong Kong, Rajkot, Bengaluru, Chennai, Surat, New York, Caracas, Howrah, Sydney, Ahvaz, Karachi, Algiers, Pimpri-Chinchwad, Vadodara, Kolkata, Gurgaon, Ahmedabad, Chiyoda, Dubai, Seoul, Hyderabad, Singapore, Doha, Jeddah, Manama, Montreal, Brisbane, Los Angeles, Ankara, Ho Chi Minh City, Bhopal, Mexico City, Ludhiana, Aberdeen, Cairo, Geoje-si, Perth, Santiago, Chandigarh, Indore, Kuala Lumpur, Rio de Janeiro, Dammam, London, Muscat, Edmonton, Busan, Visakhapatnam, Bogota, Melbourne, Madrid, La Victoria, Granada, Courbevoie, Al Jubail, Port-of-Spain.